APOSAN® (Apomorphine injection) is India's 1st indigenously manufactured and marketed brand for the treatment of symptoms of Parkinson's disease (PD)11
APOSAN® (Apomorphine injection) does not contain morphine and is non-addictive, and not a controlled substance
APOSAN® belongs to a class of medications called Dopamine agonists
APOSAN® is used to treat "

OFF

" episodes (Causes difficulty moving, walking, and speaking) in people with Parkinson's disease to get them to "

ON

"
Product Details
I. Pack of 5 ampoule (2ml): Apomorphine hydrochloride injection 10mg/ml
II. Pack of 5 ampoule (5ml): Apomorphine hydrochloride injection 10mg/ml
Indications
Treatment of motor fluctuations ("ON-OFF" Phenomena) in patients with Parkinson's disease which are not sufficiently controlled by oral anti-Parkinson medications.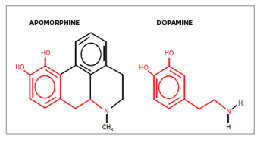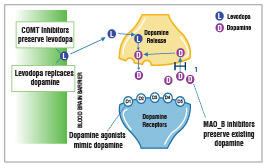 How
It

Works

?
APOSAN® contains Apomorphine hydrochloride salt and is non-ergoline Dopamine agonist with high selectivity for Dopamine D2, D3, D4 and D5 receptors
Due to stimulation of post-synaptic Dopamine D2-type receptors within the brain, Apomorphine shows improvement in motor and non-motor functions in Parkinson's disease
APOSAN® is Apomorphine hydrochloride that is used to treat the symptoms of Parkinson's disease. APOSAN® belongs to a group of medicines known as Dopamine agonists that stimulate nerve cells in the brain. These nerve cells then control movement and other body functions, to help reduce the symptoms of Parkinson's
Advantages of
Starts working in


4 to 10 minutes12

Effect of APOSAN® will last for
60-90 minutes13

Improved quality of life with APOSAN®

Apomorphine is the most efficacious drug for therapy in treating the non-motor symptoms of PD (sleep problems, depression and anxiety, pain, urinary dysfunction etc)14

Reduction

in 'off time' (both duration
and severity of dyskinesia)15

Reduction

Reported reduction
in hallucination15

85% reported improvement in night time sleep problems from insomnia and hypersomnia to Rapid Eye Movement (REM)15.
IS right for me?
APOSAN® can rapidly stop "OFF" episodes after it is administered. APOSAN® starts working as early as 4 to 10 minutes after being administered, most people feel relief from their "OFF" symptoms within 20 minutes. The Effect of APOSAN® lasts usually for 60-90 minutes. So it's important that you continue to take your usual Parkinson's Medications as directed by Doctor. Since APOSAN® bypasses stomach, you do not worry about your meal time. APOSAN® is reliable and just works at any time of the day.
References
11. SPC Apo-go Injections
12. MHRA PAR; APOMORPHINE 10 MG/ML SOLUTION FOR INJECTION, APOMORPHINE 10 MG/ML SOLUTION FOR INJECTION UKPAR TABLE OF CONTENTS http://www.mhra. gov.uk/home/groups/par/documents/websiteresources/con2033000.pdf
13. Pietz K., et al. Subcutaneous Apomorphine in late stage Parkinson's disease: a long term follow up. J Neurol Neurosurg Psychiatry 1998; 65 :709–71.
14. Cell Physiol Biochem 2018;45:119-130.
15. M. Rosa-Grilo et al. / Parkinsonism and Related Disorders 33 (2016) S28eS35